I decided that feeding HomeStarRunner would require some utensils. The family mart was bereft of baby supplies. I was considering purchasing a small genki drink, ripping the top of a rubber glove and fashioning a bottle from the two when I glanced over the toy section. Thank you Sanrio Corporation. A Hello Kitty nurse play set, with an eyedropper and a squeeze bottle. Was there ever a more Japanese puppy?

HomeStarRunner settled down after being fed again at about 10:30. She then slept all the way through until about 3 am, when it was time for some more food, then again at 5, and then again at 6. The 6am feeding required another bath. The bath this time was great. She calmed down and relaxed as I placed her into the water. She stretched her legs out, had a big yawn and was asleep soundly again before I had finished toweling her down. Which is a delicate task when you're dealing with a small puppy.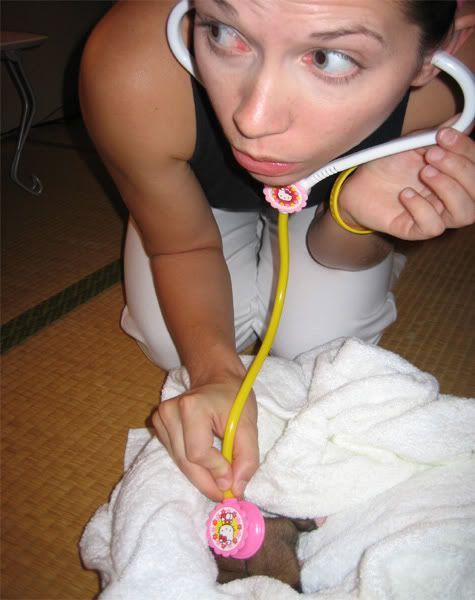 This morning I had to employ my old jellybean jar to transport her to school. I cut a hole in the top for some airflow, put her little blue blanket in the jar and dropped her in the top. She curled up into her blanket and snoozed during the bike ride to school, which was painstakingly slow. Picture a gaijin, with huge white knees poking out of his shorts, wearing aviator glasses, sporting horrible sunburn and clutching a plastic jar with a small snoring puppy biking through the rice fields of Saga.
Our story ended happily just a few minutes ago. My Kyoto Sensei has just taken all 6, now rather frisky, puppies out to his friend in Takeo, who is a dog breeder and definitely will have the experience and facilities to give these pups a better start in life than just being discarded on a rubbish heap.
Puppies rule.
I miss HomeStarRunner